This is a complete list of all the stolen property. Please note that none of the markers had barrels or ASAs when they were taken. The theft took place in Tecumseh, MI 49286.
The cowards didn't have the balls to do anything to me directly, so instead they broke into my 58 year old single Mother's home and robbed her. We now use a security system as well as household defense items, and I fully suggest the same for everybody else.
Keep an eye out on eBay, pbnation, pbreview, and other internet listings, as well as any local shops or fields. If you have any information relating to any of this equipment, please contact myself and/or the Tecumseh Police Department at 517-423-7494. I'm posting a substancial cash reward for any recovered markers and/or pertinent information leading to them.
Smart Parts Impulse, black, serial IMP13584.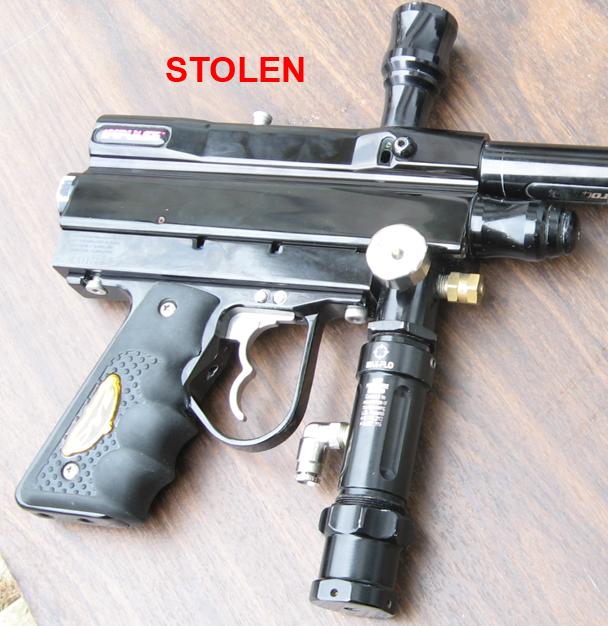 Vertical Max-Flo regulator, Dye sticky grips, no Vision.
Smart Parts Impulse, black, serial IMP3106.


No solenoid installed.
Smart Parts Freak Factory Impulse, black/yellow fade with yellow splash, serial 64.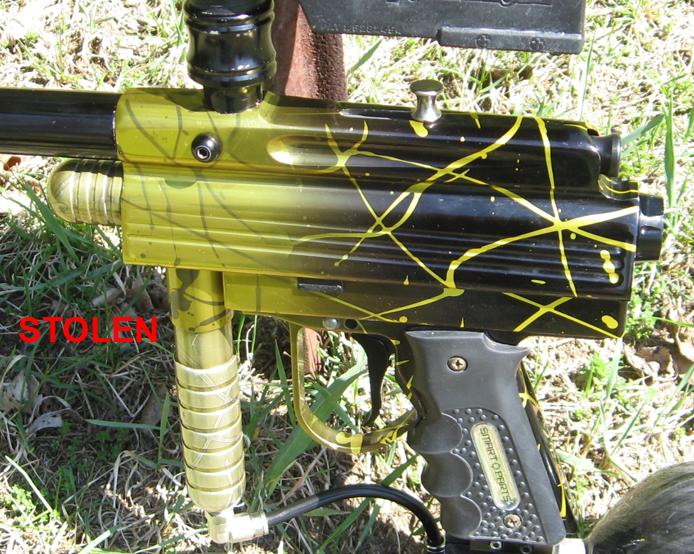 Marker has a gas-thru grip; no circuit board installed, no Vision.
Tribal BBT, black/blue speckle, serial 1461.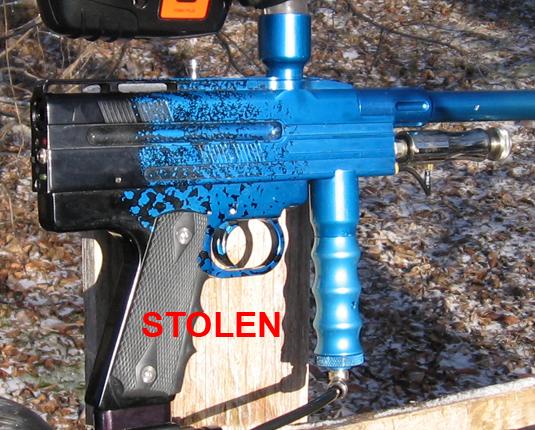 Smart Parts Ion, carolina blue exoskeleton/reg cover with blue frame, serial 34619.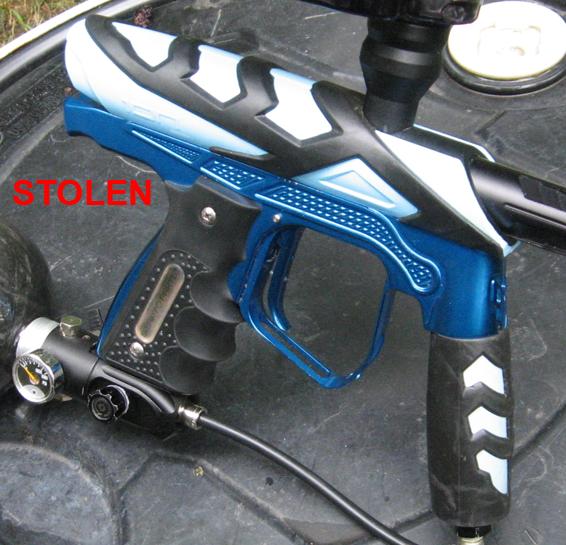 Caroline light blue Ion body with matching reg cover, blue Punishers 15º frame, black SP smartgrips, blue LED mod on the rear of the frame, blue visible eyes. This marker has a prototype Tadao board installed which is green in color instead of regular Tadao boards which are white. The bolt is a stock bolt modded for dual tail o-rings, and a deventuri mod.
AKALMP Excalibur half-milled with eyes, orange to yellow fade, serial 434.


Tadao board, red visible eyes, yellow LED on the rear of the frame, JMJ eye covers, Mitey Max volumizer, and SCM-3 LPR.
Please note that this marker was recently purchased off the internet, so check the date on the posts if you find a similar looking gun. The sale threads for the previous owner are still out there, but they're from before I bought it.
Smart Parts Dark Shocker SFT, purple/black acid wash, serial "YDNA".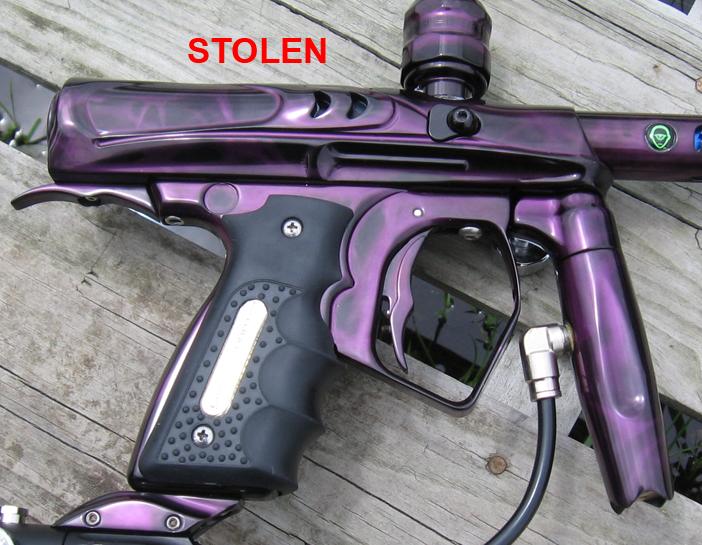 All parts anodized to match. Marker has a black NoX bolt installed, blue visible eyes with a homemade beam-break conversion.
Smart Parts Nerve with beam-break eyes, blue with silver parts, serial NRV1963.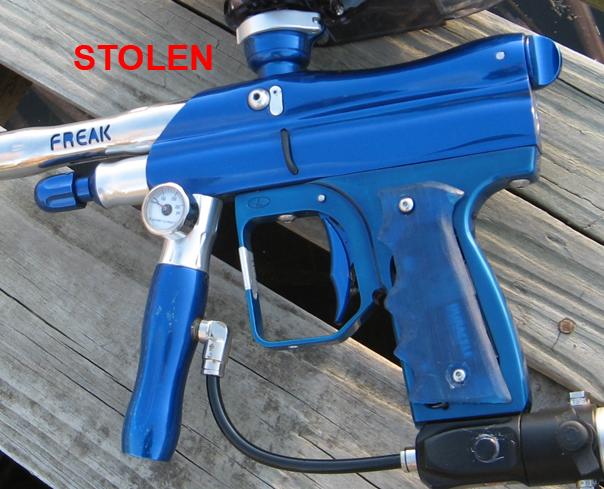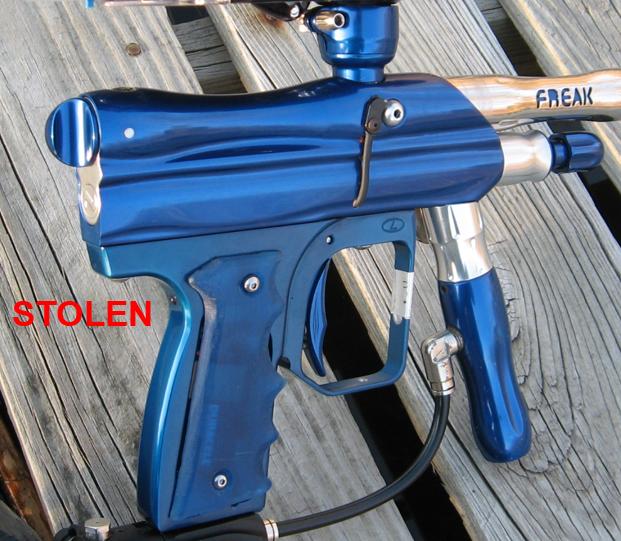 Matching Logic USF frame, 15º angled vertical adapter, slightly faded vertical Max-Flo regulator, homemade composite grip panels. This is the only Nerve out there that has beam-break eyes installed; a black eye cover can be seen on the right side.
Dye Shocktech DM3, black with red parts, serial D7101.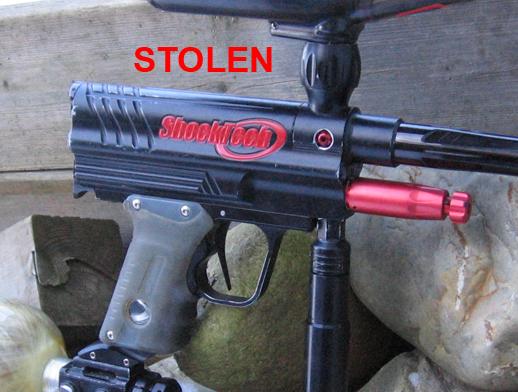 Marker has a Tadao board installed with red visible eyes and red Smart Parts detents.
Dye DM4, blue to black fade, serial 641087.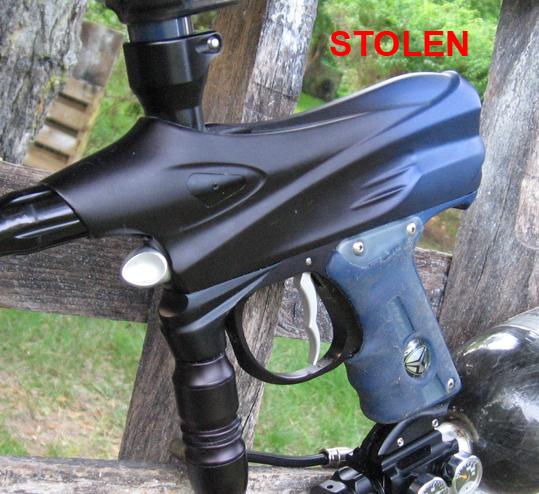 AirStar Nova 700, black with blue/purple swirl, serial 981 0542.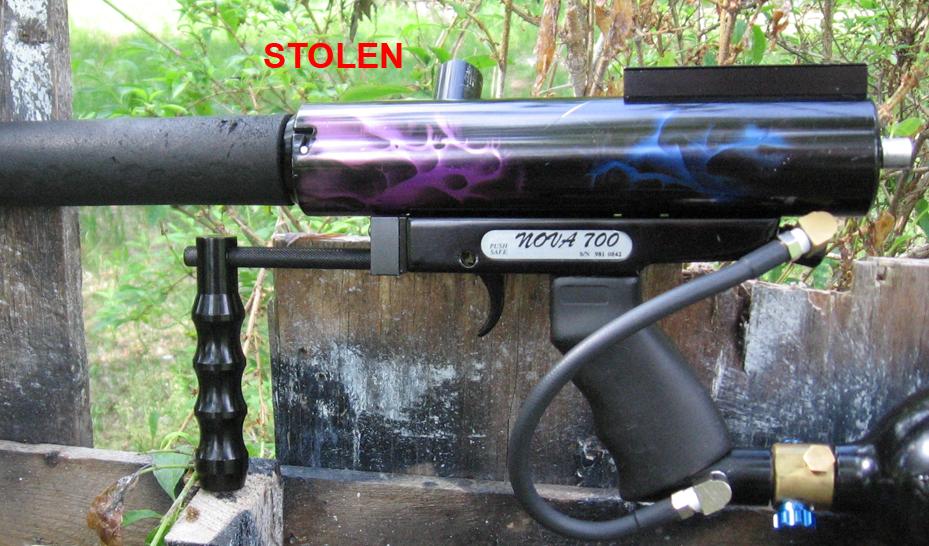 Smart Parts Shocker Sport, black, serial 21444.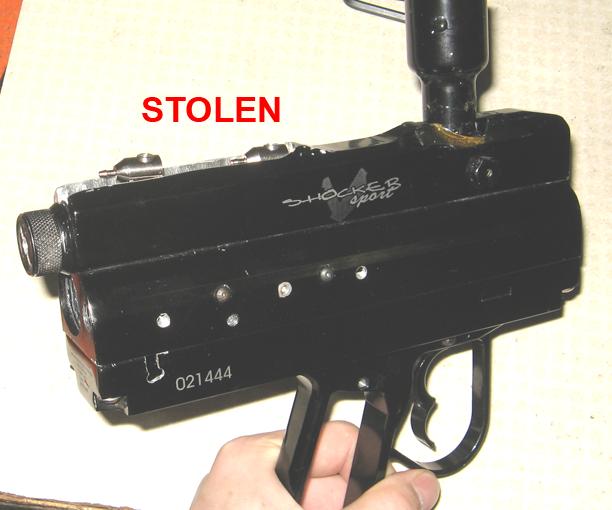 The top of this body is milled and it has QEVs sticking out. This was a custom project in the making and isn't functional by a long shot; it has no solenoids, no electronics, and most internals missing.
Smart Parts Adrenalin Impulse with beam-break eyes, blue fade, serial AI196.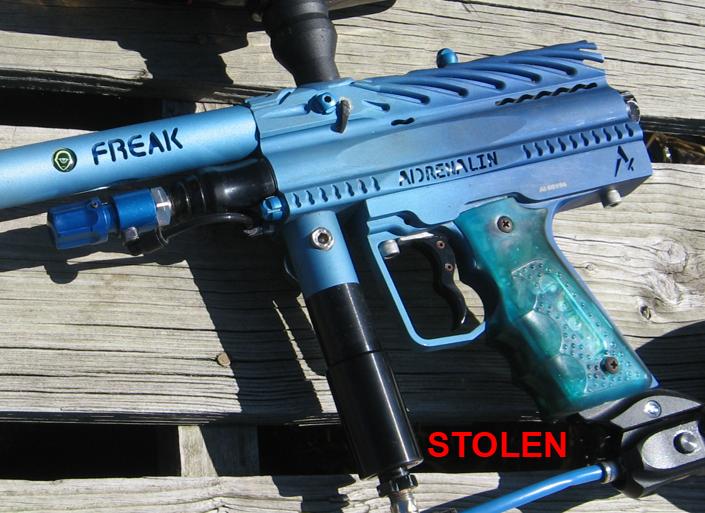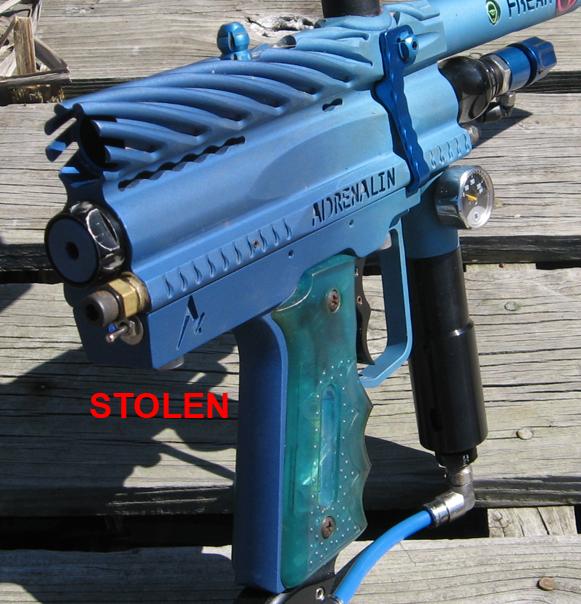 Marker has a Morlock board installed with beam-break eyes, Ion vertical regulator, black valve endcap with blue LPR, black Ion feedneck.
PGI Mayhem, silver with blue parts, serial 541.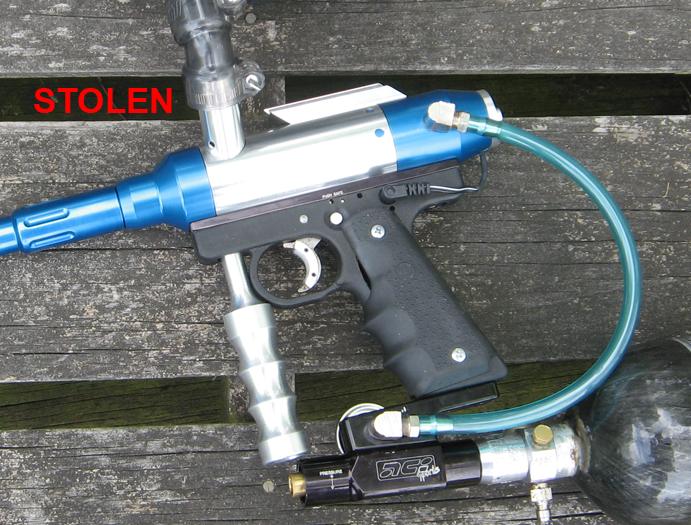 No board installed.
Smart Parts Mechanical Ion, currently has a blue/black exoskeleton with clear dye grip panels, an autococker three-way valve is visible inside the frame. Serial number 36766.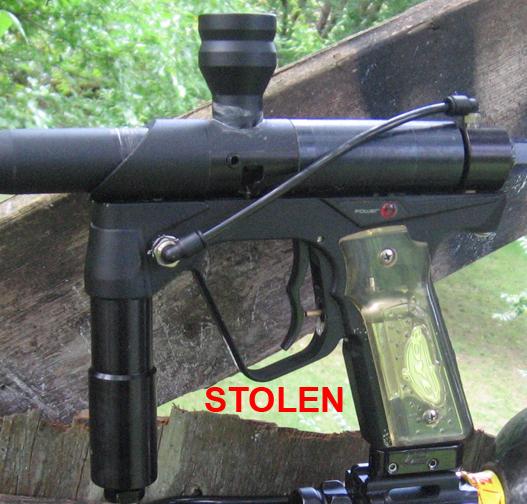 This picture was taken before I installed the blue exoskeleton on it. The external hose is visible on the side.
AGD E-Mag, black X-valve with blue ULE body and rail, black frame installed. Serial number VV4048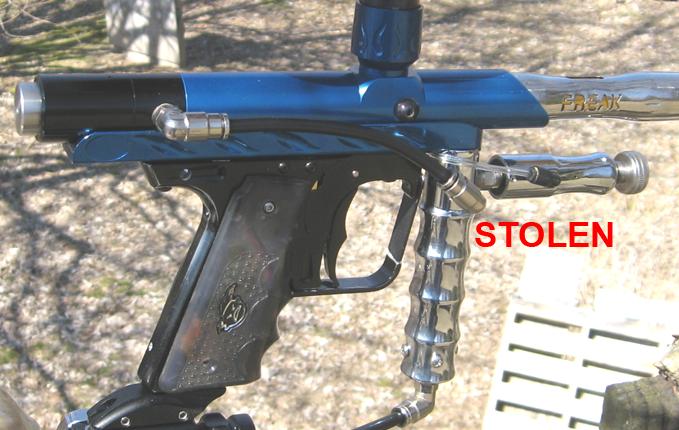 This has been modded with a pneumag conversion, it has a silver LPR and silver modded foregrip as pictured. The frame is a Shocker frame with many holes and scratches.
Odyssey Halo-B with Hybrid Suicide shells.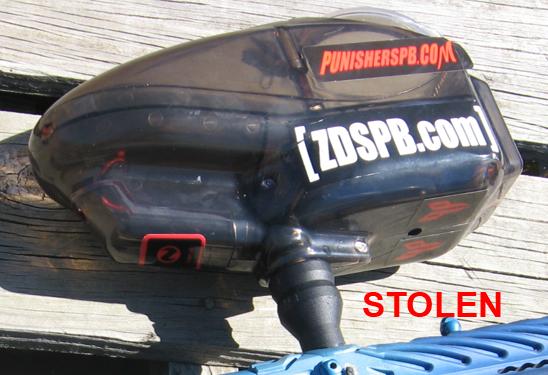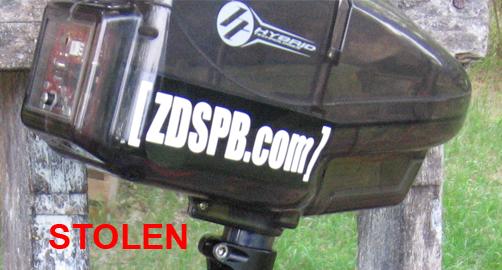 Installed is a red Cheetah board and transparent (plexiglass) board cover. No RIP drive.